I first started to think about making a web shop when I finished chemo and radiation after my treatment for breast cancer. As a cancer survivor, the grass seems greener, the sky more blue, and you appreciate that you are alive and kicking and you pick up a genuinely positive attitude towards being alive. The natural next step is wanting to give something back, to do something better. Thus the name.
In 2017, I graduated with a master in Fine Art from Central Saint Martins in London where I spent two years trying to keep up with my much younger fellow students. And it was great. I was also extremely grateful that the programme director had chosen to offer me one of the spots in my class. It was a fabulous experience. I had applied because I had reached a point in my artistic training where I needed help to develop. At the graduation show, I sold one of my big paintings and I cherished the fact that someone wanted to have one of my artworks displayed in his or her home.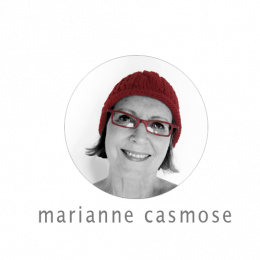 In my online art shop, I sell quality prints, pencil drawings and paintings that are easy to send by mail. I also offer them at a fair price that makes quality artwork available to a large audience. The prints are produced on beautiful art paper and always in sizes that fit standard frames. The drawings and paintings that I sell on www.abetterversion.dk are copies that I draw and paint after my original artwork. I use the same materials that were used for the originals but the finished result will always be a new version of the artwork with its own special details.
I am based in beautiful Copenhagen, Denmark. Check my personal website www.mariannecasmose.com